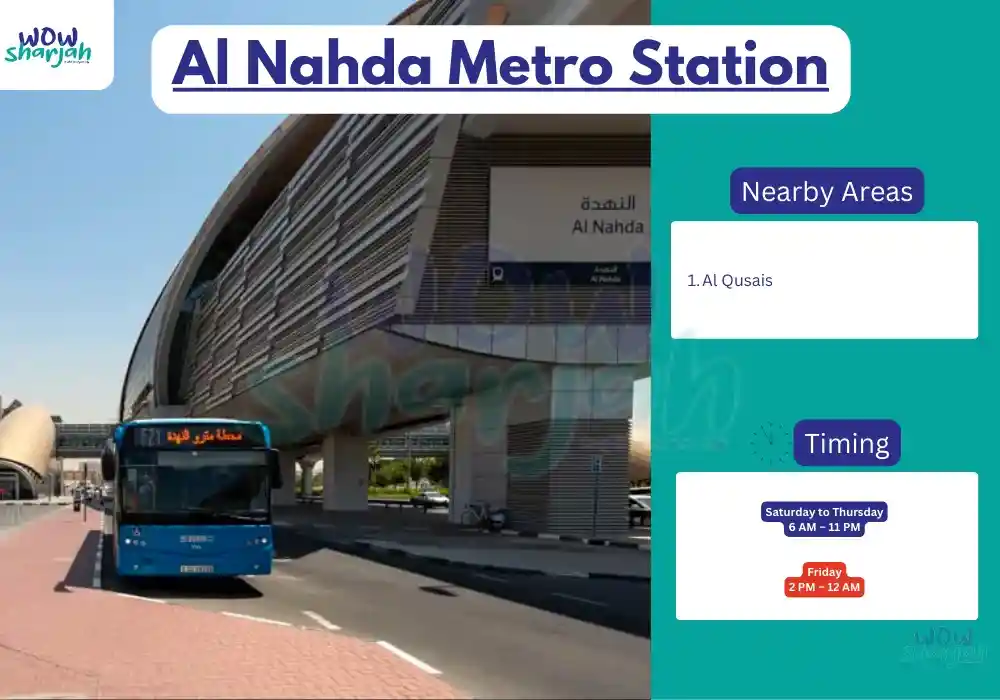 Al Nahda Metro Station is located on Green Line of Dubai Metro in Al Qusais.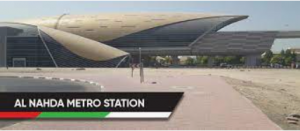 Metro Route:  Green Line
Address: Al Qusais 1 – Dubai – United Arab Emirates  (Google Map Location)
Phone: N/A
Email: N/A
Tracks: 2
Platforms in use: 2
Al Nahda Metro Station Timings: Saturday – Thursday 06:00-2300 (6 am-11 pm) Friday 1400-2400 (2pm-midnight)
Located in: Al Qusais
For any questions: Call Dubai RTA at 800 90 90
Inside It
Zoom Convenience Store
Abu Dhabi Islamic Bank (ADIB).
Nearby Areas
Restaurants 
Al Fareej Restaurant
Gazebo Restaurant
Salkara Restaurant
Grill Hut Restaurant
Bikanervala Restaurant – Indian Food Delivery Dubai
Reef Demashq Restaurant
Mezban Restaurant
Karachi Darbar Restaurant
Panoor Restaurant
Pizza Hut Al Qusais
Zahrat Al-Quds.
Bus Stops
Hotels near it
U.A.E Youth Hostel Association Ad
Al Bustan Center and Residence Ad
Al Manar Hotel Apartment
Al Bustan Center and Residence
TIME Grand Plaza Hotel
FORTUNE CLASSIC HOTEL APARTMENTS
Abjad Grand Hotel
Fortune Plaza Hotel
Telal Hotel Apartments
Emirates Stars Hotel Apartments Dubai
Mövenpick Hotel Apartments Al Mamzar Dubai.
Other Landmarks
First Stop Al Qusais(Car Service Station).
It is a  station on the Green Line of the Dubai Metro, UAE, serving the Al Qusais and Al Twar areas in Deira. The district of  itself is about to 3/4 mile away. opened as The station part of the Green Line.
If you are looking for directions to Metro Station in Dubai, United Arab Emirates the current schedule and step-by-step directions for Bus or Metro routes that pass through  Station. And looking for the nearest stops closest to AStation Check out this list of closest stops to your destination: Ministry Of Information – 01; Ministry Of Information – 02; Quds Street 2 – 01; Airport Freezone Metro Station. To get  Station easy, many other are over 2.1 millions, including  in Dubai.If you use  navigate to popular places including to the airport, hospital, stadium, grocery store, mall, coffee shop, school, college, and university