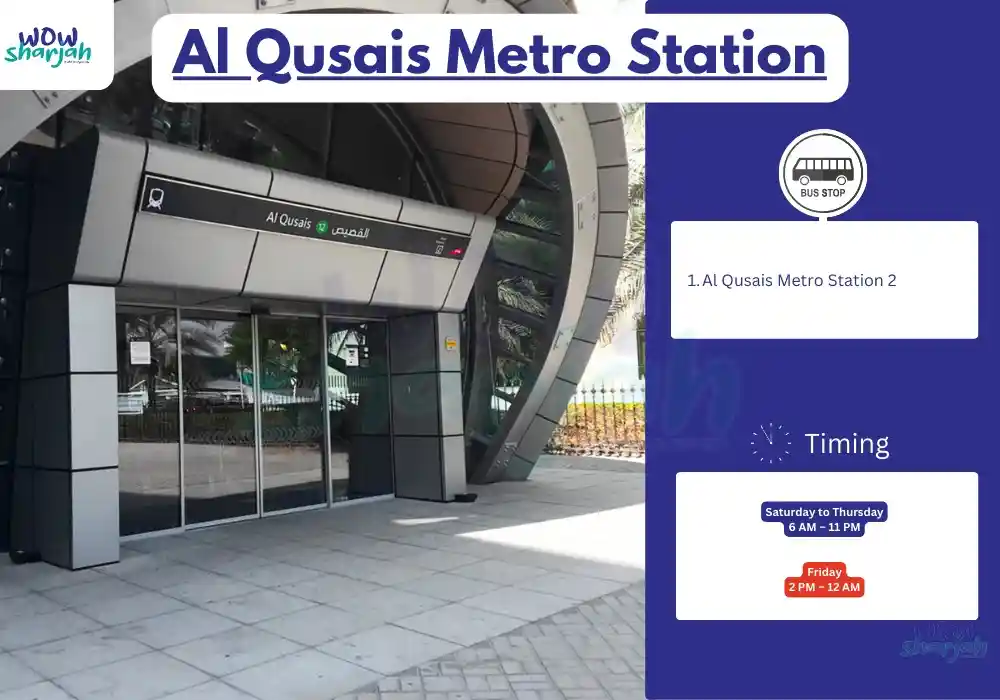 Al Qusais Metro Station is located on Green Line of Dubai Metro in Al Qusais 2.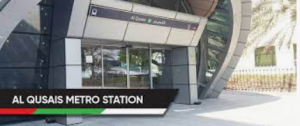 Metro Route:  Green Line
Address: Al Nahda Street – United Arab Emirates  (Google Map Location)
Phone: N/A
Email: N/A
Tracks: 2
Platforms in use: 2
Al Qusais Metro Station Timings: Saturday – Thursday 06:00-2300 (6am-11pm), Friday 1400-2400 (2pm-midnight)
Located in: Al Qusais 2
For any questions: Call Dubai RTA at 800 90 90
Inside 
Zoom Convenience Store
Abu Dhabi Islamic Bank (ADIB)
Fixit Government Services (Al Qusais Branch)
Zain restaurant
Nearby ATMs
First Abu Dhabi Bank ( FAB )
Nearby Areas
Restaurants 
Caesars
Broccoli Pizza & Pasta
JUICE WORLD EXPRESS RESTAURANT – Al Qusais
Tharavad Restaurant
Kozhikode Star Restaurant
Kethels chicken
Reef Demashq Restaurant
Bangalore Empire Restaurant
SHATER RESTAURANT & CAFETERIA.
Asian5 – DAFZA
Nellara Restaurant
Bus Stops 
Al Qusais Metro Station 2
Hotels 
Fortune Plaza Hotel
TIME Grand Plaza Hotel
FORTUNE CLASSIC HOTEL APARTMENTS
Holiday Inn Express Dubai Airport
Premier Inn Dubai International Airport Hotel
Roda Al Bustan Hotel
Emirates Stars Hotel Apartments Dubai
Dubai international hotel
Ramada Hotel & Suites Sharjah
Dunes Hotel Apartments Muhaisnah
Boulevard City Suites Al Nahda2
Other Landmarks
The nearest  Station are:
Al Qusais – 01 is 34 meters away, 1 min walk.
Qusais, Civil Defence Intersection – 01 is 442 meters away, 6 min walk.
Enoc, Quds Street – 01 is 878 meters away, 12 min walk.
Stadium Metro Station is 1374 meters away, 18 min walk.
Al Qusais  in Dubai, United Arab Emirates?
The current schedule and step-by-step directions for Bus or Metro routes that pass through , Looking for the nearest stops closest . Check out this list of closest near it  stops to your destination: Al Qusais Metro.Many people  over 1.5 million , including in Dubai public to,
Use navigate to popular places including to the airport, hospital, stadium, grocery store, mall, coffee shop, school, college, and university etc. You will be get easy way to get there by your own.