Sharjah Jiu-Jitsu Club is a Sports complex in Sharjah, United Arab Emirates.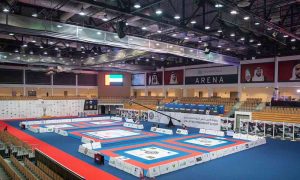 Address: 9CCG+CF2 – Al Riqa Suburb – Sharjah – United Arab Emirates. (Google Map Location)
Phone: +971 50 143 5353
Email: info@uaejjf.com
Website: https://events.uaejjf.org/
About Sharjah Jiu-Jitsu Club in Sharjah

For Register the Sharjah Jiu-Jitsu Club
Facebook / Twitter / Instagram / YouTube
Opening Hours: Monday, Wednesday, Thursday, Sunday: 11 am–8 pm, Tuesday, Friday, Saturday: Closed
Sharjah Jiu-Jitsu Club dates back to the dawn of human civilization, and it has become phenomenally popular in the hearts and minds of the martial arts community. Its philosophy is based on two pillars: the first is the use of mental strength to gain an advantage over opponents. This will help not only in resisting strikes but also in avoiding hostile situations and ultimately overcoming them. The second pillar is the use of unarmed combat to improve fitness levels, flexibility, self-discipline, focus, and composure. This discipline and focus also help in setting and achieving targets.
Competition Rules in Sharjah Jiu-Jitsu Club
UAEJJF JIU-JITSU RULES
UAEJJF GRADUATION SYSTEM
V.A.R VIDEO ASSISTANT REFEREE
UAEJJF UNIFORM GUIDELINES
ATHLETE'S RULES OF CONDUCT
ANTI-DOPING
Back to List of Stadium in Sharjah