Sharjah Art Foundation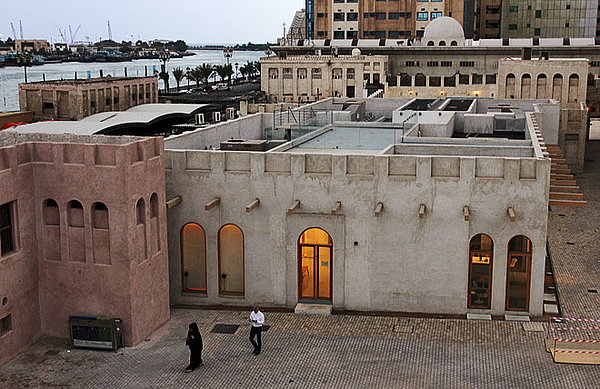 Sharjah Art Foundation activities and events take place all year and include exhibitions presenting the work of Arab and international artists, performances, music, film screenings, and artist lectures, as well as substantial art education programmes for children, adults, and families.
The Foundation sponsors the annual March Meeting and the Sharjah Biennial every two years. Sharjah Art Foundation delivers a diverse range of contemporary art and cultural programmes to Sharjah, the UAE, and the region.
Opening Hours: Saturday – Thursday: (9:00 AM – 9:00 PM), Friday: (4:00 PM – 9:00 PM)
Attraction at Sharjah Art Foundation
1. Exhibitions
Sharjah Art Foundation works hard to encourage both local and international artists by displaying their work in international exhibits hosted here all year.
Some of the popular exhibitions are:
Air Arabia Curator In Residence: '32: The Rescore
Akram Zaatari: Against Photography. An Annotated History of the Arab Image Foundation
March Project 2019
Bani Abidi: Funland
Marwan Rechmaoui: Slanted Square
2. Events
All year long, Sharjah Art Foundation presents a variety of events and activities such as film screenings, performances, music, artist lectures, and art education programmes for children, adults, and families. It aids in the promotion of arts and literature among the general public.
Some of the popular events are:
Sculpting for Adults
Making Ceramic Murals
Lecture: A Painting and an Artist
Relief Technique – Carving Letters
Children's Open Day 18
Writing on Walls to Create an Antique Look
Making a Clay Citrus Juicer
Old Kufic Script
Shaping a Vase like a Fish
3. Projects
Sharjah Art Foundation has worked on multiple projects with numerous talented regional and worldwide artists, which are displayed in their shows.
Some of the projects are:
Imperfect Isometry (2019)
Carlos Martiel: Various Works (2019)
Pataki 1921 (2019)
Massive Kinship (solitary promenade)(2019)
Untitled (inwardness, juice, natures)(2019)
Eisa Jocson: Various Works (2019)
Sympoiesis Observatory (2019)
Perruques Architectures Emirats Arabes Unis (2019)
No prey, No pay (2018–2019)
4. Collections
Sharjah Art Foundation is very interested in collecting art pearls from exhibits, foundation projects, and so on. The majority of these collections are the work of regional artists.
Following are the collections are:
Into the Future
Mannergeschichten
Guide to Al Khan, an empty city in Sharjah
The Three Disappearances of Soad Hosni
Gravida's Fourth Wall
Gravity and Others
Shahrazad
Building
*For further details check here.