Sharjah is widely regarded as one of the UAE's most supportive communities for the arts, academia, and youth development. As the third biggest emirate. It serves as a hub for international business and cultural interaction thanks to its location on the Arabian Gulf and the Indian Ocean.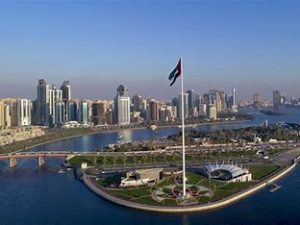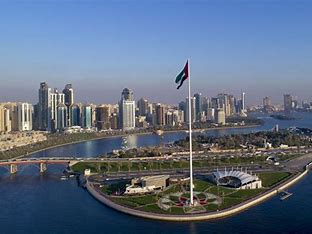 It has more than 15 museums, historic sites, and cultural sites. It conducts several biennials and events throughout the year that attracts artists and cultural practitioners from all over the world. 
If you're looking for a place to unwind and take in the sights of Sharjah from a scenic waterfront vantage point, Flag Island is a great selection. It's the perfect balance of form and function, offering you the chance to get in shape while having fun. New recreational facilities, including an open-air amphitheatre that can seat a thousand people, the 1971 Design Space, and the Jones the Grocer restaurant, were planned to make Flag Island into a popular tourist destination.
The island flag was unfurled on December 2, 2012, and Flag Island serves a vital purpose for the Sharjah Development and Investment Authority. The flagpole is encircled by lights that are 3 metres high, and lights that are 4.4 metres high are also put along the route to the flagpole.
One of three groups of islands in Khalid Lagoon, Flag Island is most known simply as Flag Island. Located in Al Layyah, next to the Government Departments Buildings and the Souq Al Jubail (Sharjah Fish Market), the island's most recognisable feature is a massive flagpole honouring the United Arab Emirates. As the island's main landmark, the world's seventh-tallest flagpole is a must-see. There are several free attractions in Sharjah, and Flag Island is among them. This concludes our analysis of The Flag Island. Al Noor Island is an excellent option for anyone in Sharjah who want to see additional waterfalls. Sharjah's Madar Aljada is another fantastic tourist destination in the United Arab Emirates. Featuring professionally landscaped gardens, up-to-date dining options, and anything else that may be incorporated to make your time there more enjoyable.
Flag Island has a jogging track where you may go for a jog or have a pleasant walk if you're looking for a scenic way to get in shape. Take as much time as you like to stroll, run, or jog around the island while basking in the refreshing breeze.
A relaxing green area surrounds the picturesque island, making it ideal for those who wish to spend time alone in a peaceful setting or who simply want to soak in the stunning panoramas. You can relax in the sunshine as you read or perhaps practise mindfulness meditation.
FAQs
Is Sharjah good for tourists?
Sharjah may be close to Dubai, yet it nevertheless maintains its own identity. Sharjah is one of the most popular tourist destinations due to its abundance of cultural institutions and exciting day trip options. 
Is Dubai better or Sharjah?
There is a greater variety of beach-related activities in Dubai. Sharjah may have fewer amenities, but its beauty and untouched nature make up for it. The most attractive beach in Sharjah, Khor Fakkan, is a good 90 minutes distant, which is the city's primary drawback.
Is the Sharjah visa valid in Dubai?
Although your visa valid for 58 days beginning on the date it was issued, you are only allowed to stay in the UAE for a maximum of 90 days total. Please take note that this visa is valid in all seven United Arab Emirates (UAE) emirates, including Dubai, Abu Dhabi, Ajman, Sharjah, Fujairah, Ras Al Khaimah, and Umm Al Quwain.
Why should you visit Sharjah?
Though it may not be as flashy as Dubai or Abu Dhabi, the largest Emirate of the United Arab Emirates will impress with its history, archaeology, and outdoor activities. Visiting Sharjah is like going on a historical tour through the city's old souks, amazing museums, beautiful mosques, charming waterfront, and stately heritage buildings.