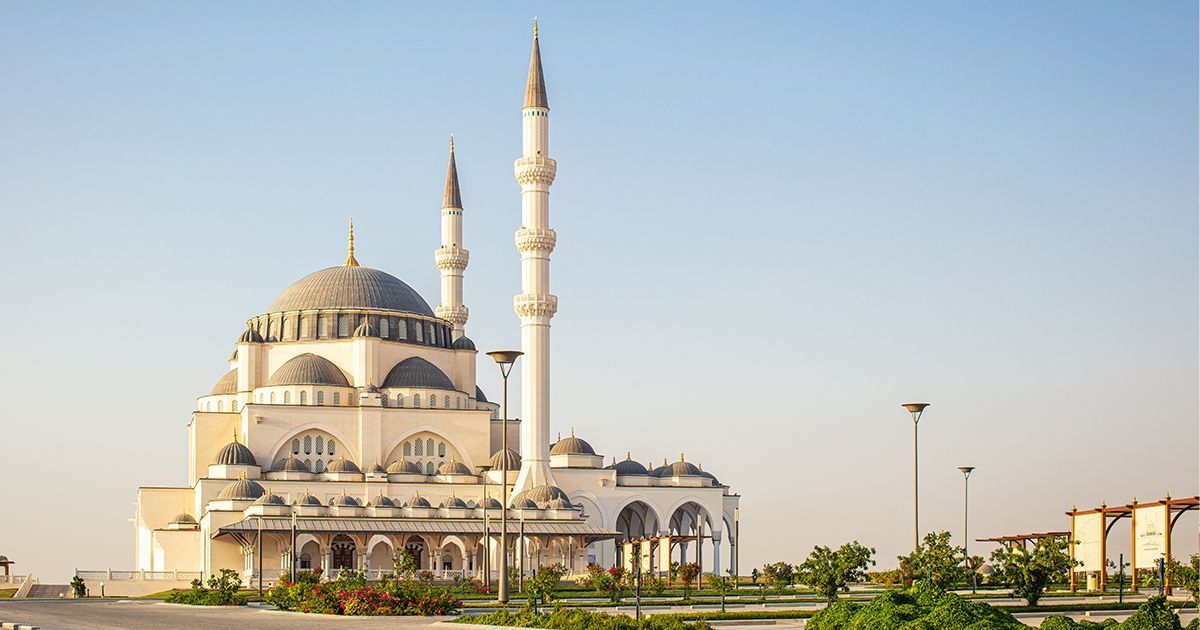 Sharjah Mosque
In the emirate of Sharjah, there is a new mosque called Sharjah Mosque. It opened its doors in 2019 after only five years of building. With a 190,000 square meter footprint and a seating capacity for 25,000 worshippers, the mosque is the largest in the entire emirate and stands out for its grandeur.
It can reached from Sharjah in 20 minutes. The expansive complex has many gates and entrances, including four for the general public, two for ladies, one for VIPs, and one for buses.
It is worth visiting this mosque to appreciate its magnificence because it is a magnificent building and a lasting symbol of faith. Its architecture is distinctively Islamic. There are gardens and fountains all around its exterior, in addition to numerous gorgeous domes, minarets, and ornate columns. Visitors can walk around the entire mosque on a track that surrounds it.
The mosque's main prayer area is indoors, and the walls adorned with Quranic texts and stained glass windows. Red carpets and a sizable chandelier are also present in the center. Additionally, there is a café, a gift shop, a room for non-Muslims, and open areas. Additionally, it has a library stocked with artwork, books, and antiquities from various Islamic eras.
Excellence lighting for a worship place
The Light Concept studio handled all aspects of the mosque's lighting design project. Through lighting, it was intended to give the location a distinct personality.
To provide the ideal environment for prayer and tourism throughout the day, every aspect of the exterior and architecture, including the interior space and façade, has been highlighted. With a management system that makes it easy to keep track of how much light is being released across the mosque's physical space, the lighting, designed by Linea Light Group, has been instrumental in tracing a magnificent transverse course.
An unrivalled representation of Islamic architecture is the Great Mosque of Sharjah.

The brand-new temple is prepared to welcome non-Muslim guests and worldwide learners.

Sharjah, A new mosque  created and constructed by His Highness's vision A member of Sheikh Sultan bin Mohammed al- Qasimi's A representation of Islamic architecture is the Supreme Council of the United Arab Emirates (UAE).

The mosque is distinguished by its advantageous location, just where the main arteries of the emirate and the state converge. It is specifically situated at the junction of Meliha Road and Emirates Road in the Al Tay neighborhood (see location).

It has six main entrances, including four for the general public, two for women, one for VIPs, and one for buses.

Al Tai, Al Sayah, Badia, Monsters, and Juiza are just a few of the nearby neighborhoods served by the Sharjah Mosque and those on the nearby highways.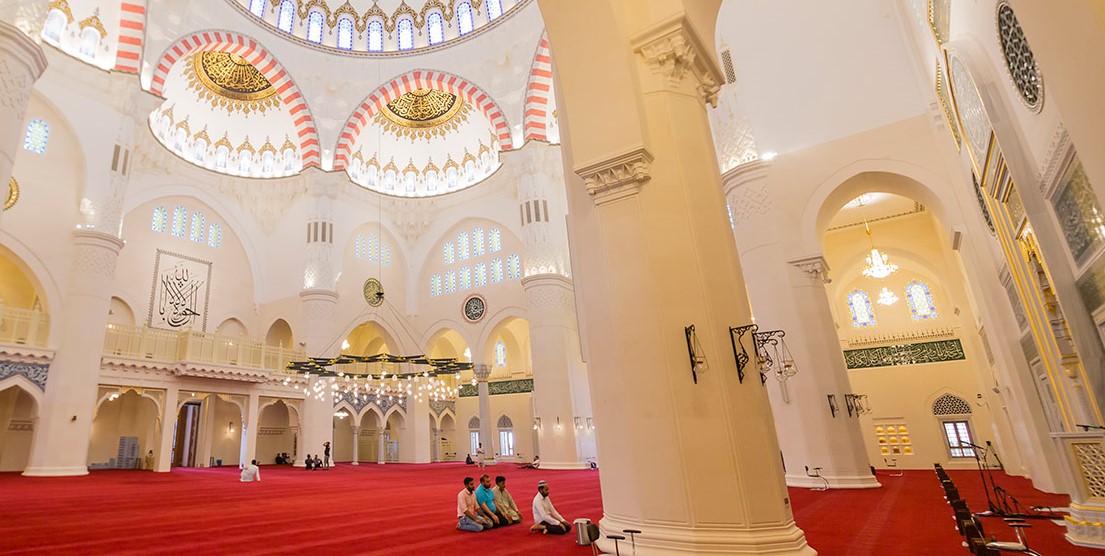 Its five-year construction process started in 2014 and ended in 2017.

Sharjah Mosque

structures tend to have Islamic architectural styles. Sharjah's Islamic and scientific creation of it has taken into account cultural knowledge.

The mosque, which cost 300 million dirhams to build, is a symbol of contemporary Islamic art. It covers everything from carving and sculpture to using Arabic calligraphy to create artistic compositions and designing the temple, which has two 75-meter-tall minarets and 81 domes.

The

Sharjah Mosque

is a standout location for cultural tourism in the nation because of its 45-meter-diameter main dome, an architectural work of art.

Eight electric elevators serve worshippers and guests, the imams and two ablution spaces with 352 Lights each. It contains the most recent safety and security measures.

More than 25,500 attendees can fit for the mosque's interior and exterior spaces.

The parking lot has a capacity of 2,260 vehicles, including 60 bus stops, 1,400 places outside, 300 inside the mosque building, and 500 outside the mosque fence.

To assist the sick and elderly, 100 wheelchairs are available throughout the mosques outside areas.

To accommodate non-Muslim visitors and information seekers worldwide, the mosque features areas and walkways, a museum, a gift shop, a café, an outdoor promenade around the mosque, and an Islamic garden with a variety of fountains and waterfalls.
Google Map: Sharjah Mosque
FAQ'S
Which is the Biggest Mosque in Sharjah? 
Sharjah Mosque is the Biggest Mosque in Sharjah.
It is located in the Al Tay region, at the intersection of the Maliha Road (E102) and Emirates Road (E611).
How to get Sharjah Mosque?
It can reached from Sharjah in 20 minutes. The expansive complex has many gates and entrances, including four for the general public, two for ladies, one for VIPs, and one for buses.
Direction of  Sharjah Mosque. See in Google Map.
List of Famous Mosque's in Sharjah