Sharjah Bus Route99 has started from Jubail end to Sharjah Airport. Sharjah Transport agency provide a Sharjah bus route99 timing and map also it may surely to help to Dubai People. Bus Timing in Sharjah starts from 6:00 AM to 11:00 PM on daily. But bus timing has been changed slightly on Friday only.
The standard fare is AED 8 through cash and AED 6 through Sayer card
Price:
Standard fair: AED 8.00
Sayer Card: AED 6.00
Route 99 operates from Jubail – Sharjah Airport. Route 99 covers various destinations including:
Jubail Terminal
Rolla Square
Zahra Street
Shaikh Mohammad Bin Sultan Al Qassimi Street
Shaikh Khaled Bin Khaled Al Qassimi Street
Abdullah Saleem Al Sabah Street
Dhaid Road
Sharjah International Airport Terminal
Schedule of bus Timing and Map: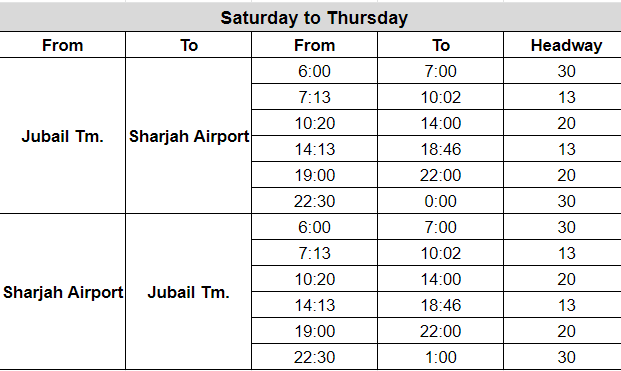 Schedule of bus Timing and Map:
For Queries:
For any suggestions on how you can make Public Transport better, please feel free to contact us on the following numbers.
Roads & Transport Authority – Sharjah: 600 52 52 52