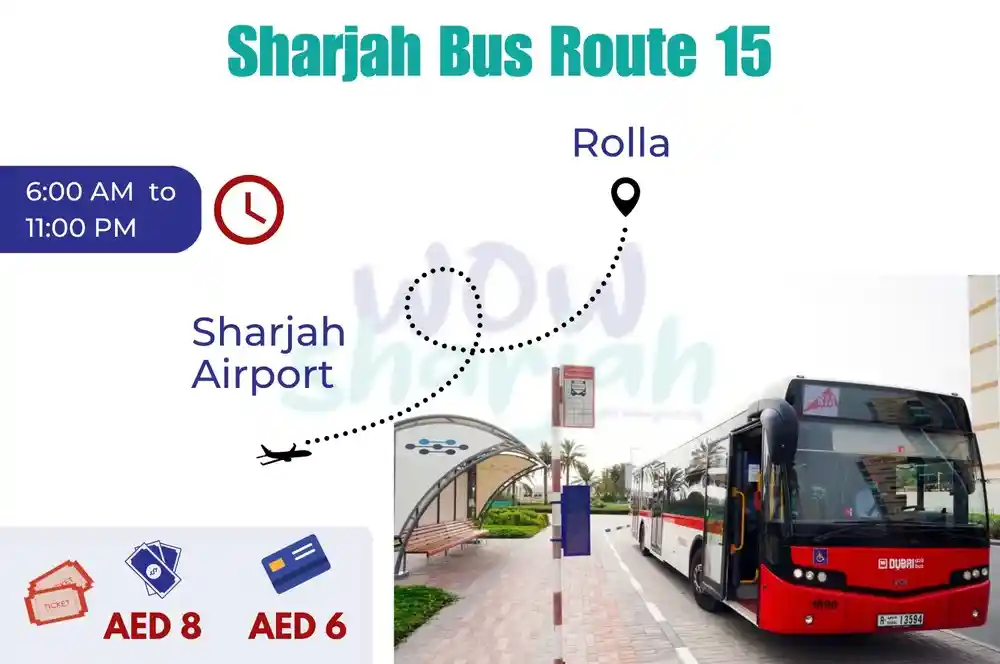 Sharjah Bus Route 15
Sharjah Bus Route15 has started from Rolla end to Sharjah Airport. Sharjah Transport agency provide a Sharjah bus route15 timing and map also it may surely to help to Dubai People. Bus Timing in Sharjah starts from 6:00 AM to 11:00 PM on daily. But bus timing has been changed slightly on Friday only.
The standard fare is AED 8 through cash and AED 6 through Sayer card.
Price:
Standard fair: AED 8.00
Sayer Card: AED 6.00
Route 15 operates from Rolla – Sharjah Airport. Route 15 covers various destinations including:
Al Rolla Terminal
Shaikh Saqr Bin Khaled Al Qassimi Street
University City Road
University City
Sharjah International Airport
Schedule of bus Timing and Map: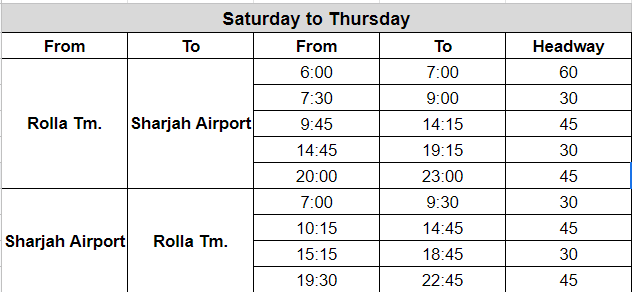 Schedule of bus Map:
Sharjah Bus Route 15
The 15 bus route is Quoz, Al Khail Gate 2 – 01 and the last stop is Ghubaiba Bus Station – 05. 15 (Ghubaiba Bus Station) is Working everyday.

More information: 15 has 48 stops and the total trip duration for this route is approximately 59 minutes.
On the your way See suggested routes, real-time bus tracker, live directions, line route maps in Dubai / Abu Dhabi, and helps to find the closest 15 bus stops near you.  Download an offline PDF map and bus schedule for the 15 bus to take on your trip.
Line 15 
If You want to Track line 15 (Ghubaiba Bus Station) on a live map in real time and follow its location as it moves between stations to line 15 bus  you never miss your bus.
15 bus Service Alerts
You will See updates on 15 (from Quoz, Al Khail Gate 2 – 01), including real-time status info, bus delays, changes of routes, changes of stops locations, and any other service changes. Get a real-time map view of 15 (Ghubaiba Bus Station) and track the bus as it moves on the map. 
For Queries:
For any suggestions on how you can make Public Transport better, please feel free to contact us on the following numbers.
Roads & Transport Authority – Sharjah: 600 52 52 52
Click here to Check Other Bus Routes