It is a place where you can find everything you need. From electronics to fashionable clothes.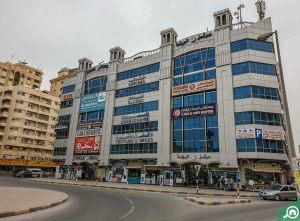 Address: Al Arouba St – Al Gharb – Al Ghuwair – Sharjah – United Arab Emirates (Google Map Location)
Phone: +971 55 665 3070
Email: N/A
Website: N/A
About Rolla Mall in Sharjah
Opening Hours: Monday-Friday: 8:00 am to 12:00 pm
Bus to stop: Sharjah-UAE
Rolla Mall is located next to Al Arouba Street and close to Rolla Clock Tower. Rolla Mall is a 6-floor commercial building that has designated spaces for office units and also houses retail outlets, textile shops, and shoe stores.
Inside the Mall
Shopping
Dining
Entertainment
Events
Available Facilities
Back to List of  Malls in Sharjah