Ramez Mall in Sharjah and enjoy our best products with original accessories.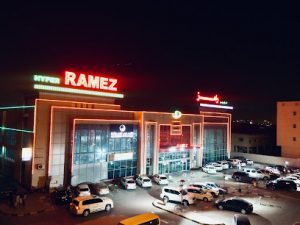 Address: Industrial Area 5 – Al Sharjah – United Arab Emirates. (Google Map Location)
Email: job@ramezgroup.com
Website: https://ramezgroup.com/
About Ramez Mall in Sharjah

Opening Hours: Monday to Sunday: 9 am–6:30 pm, 7:30 pm–12 am, Friday: 9 am–12 pm, 1–6:30 pm, 7:30 pm–12:30 am
The group Ramez is a trading and industrial group established in the Arab world, with global spread, and diverse activity, It began rising in the mid-eighties of the twentieth century in the Arab Gulf region, and then it expanded in Asia and Africa, to become one of the biggest competitors in the domains of retail sale and the distribution and production of consumer goods, the construction and real estate activity and Information Systems.
Inside the Mall
Shopping
Dining
Entertainment
Guest Services
Events.
Available Facilities:
Card payment​
Cash payment
Back to List of  Malls in Sharjah