Blue Souk Mall in Sharjah is a perfect venue to shop for a souvenir and to get the feel of a true Arabian bazaar.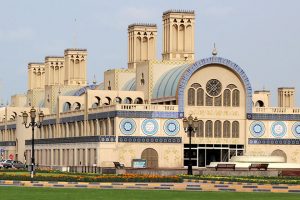 Address: 89WM+WR7 – Sharjah – United Arab Emirates
Phone: +971-65723876
Email: N/A
Website: N/A
About Blue Souk Mall in Sharjah
Opening Hours: Monday-Friday: 10:00 am to 10:30 pm
The Souk al-Markazi (Central Market), popularly known as the Blue Souk, is the main shopping hub and one of the most impressive landmarks of Sharjah. … The Central Souk consists of two large buildings, interconnected by bridges, with exuberant vaults and a unique skyline of 20 wind towers.
Inside the Mall
Shopping
Dining
Entertainment
Events
Available Facilities