FlyDubai in Sharjah
FlyDubai in Al Gharb, Sharjah Address, Phone Number, Email, Website and Book a Flight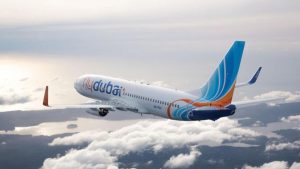 Address: Sharjah Tower, Ground floor – Al Arouba St – Al Gharb – Sharjah – United Arab Emirates
Contact Number: +971 600 544445
Email: ask@flydubai.com
Opening Time: Saturday to Friday: (9 am – 6 pm), Sunday – Closed
Website: https://www.flydubai.com/
Direction: View direction here
About FlyDubai

FlyDubai is committed to removing barriers to travel and making air travel more affordable, convenient and flexible. FlyDubai has been committed to removing barriers to travel, creating free flows of trade and tourism and enhancing connectivity between different cultures across its ever-expanding network.
Flydubai Fares
Value and Flex fares you can find the right fare on your travel needs and budget, start planning your next journey.
Flydubai Services
We're working to improve and  as a business. our customers to feel relaxed and rested on their journey. With bright airy cabins and a lighting system to help  jetlag, the onboard environment  benefits of the Boeing Sky Interior make all the difference. Team of cabin crew is there to make the flight comfortable .
If you're on your way to important meetings , we'll keep you connected with  WiFi, so you can link up your phone, laptop or tablet.
FlyDubai in Al Gharb, Sharjah Business Class
flydubai Business Class offers relaxed  flying experience. You'll benefit from faster check-in and priority ground services, dedicated check-in desk, boarding gate and bus service. You  relax before your journey in our Business Lounge at Dubai International Terminal 2 and as well as enjoying access to airport lounges across most of our network.
FlyDubai in Al Gharb, Sharjah Economy Class
Economy Class, you can expect an affordable and relaxing journey with a variety of food. If you're travelling , you can enjoy a complimentary meal on board.
View the List of Airlines in Sharjah, UAE Address, Phone Number, Email, Website and Services through the below table.
Contact FlyDubai on Social Media