Bait Al Naboodah Museum is set around a sun-drenched courtyard with walls made of coral.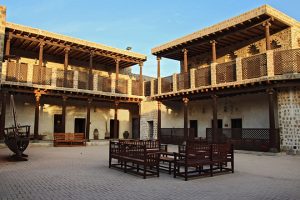 Address: Sharjah – United Arab Emirates (Google Map Location)
Phone: +971 6 568 1738
Email: N/A
Website: N/A
Opening Hours: Monday – Sunday: 8 am–8 pm, Friday: 4 –8 pm
About Bait Al Naboodah Museum
Bait Al Naboodah, Al Naboodah House, is a pearl merchant's house and museum located in the Heart of Sharjah, the restored old town and heritage area of Sharjah, United Arab Emirates. The reconstructed house has become a museum where the visitors can learn about the daily family life and routines in a bygone era.
Back to List of  Museum in Sharjah