Sharjah Islamic Civilization of Museum in Sharjah, UAE
Sharjah Museum of Islamic Civilization features seven galleries spread over two levels. On November 6th, 1996, the Islamic Museum debuted in the Heritage Area.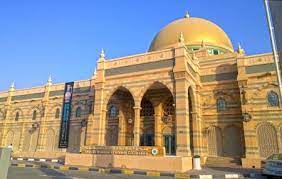 Address: Al Sharq – Al Nabba – Sharjah – United Arab Emirates (Google Map Location)
Phone: +971 6 565 5455
Opening Hours: Monday – Sunday: 10 am– 6 pm
Why go to a museum?
A significant cultural and tourism feature is the museum. It is distinctive since it is the first of its sort in the United Arab Emirates and is situated along the Al-Majarrah Waterfront in the centre of Sharjah. The museum showcases hundreds of distinctive objects from the first century AH (7 AD) to the fourteenth century AH, highlighting the magnificent Islamic Civilization (20 AD). The discoveries and innovations made by Muslim academics throughout the early history of Islam are on display in the museum.
Examine the breath-taking beauty of more than five thousand historical artefacts from the Islamic Civilization.
The museum has acquired more than 5,000 unique artefacts of Islamic art and culture. They are exhibited in six separate galleries, each representing a different period and region of the Islamic world. The rich Islamic history, art, culture, sciences, and discoveries are available for visitors to learn about.
Entrance fee at Sharjah Islamic Civilization of Museum
Free for children under two years of age.
AED 5 for children above two and below 12 years of age.
AED 10 for adults and visitors above 13 years old.
Sections of the Museum:-
The Islamic Faith's Abu Bakr Gallery
Ibn Al-Haytham Gallery of Technology and Science
Gallery 1 of Islamic Art
Display of Islamic Coins
Back to List of  Museum in Sharjah