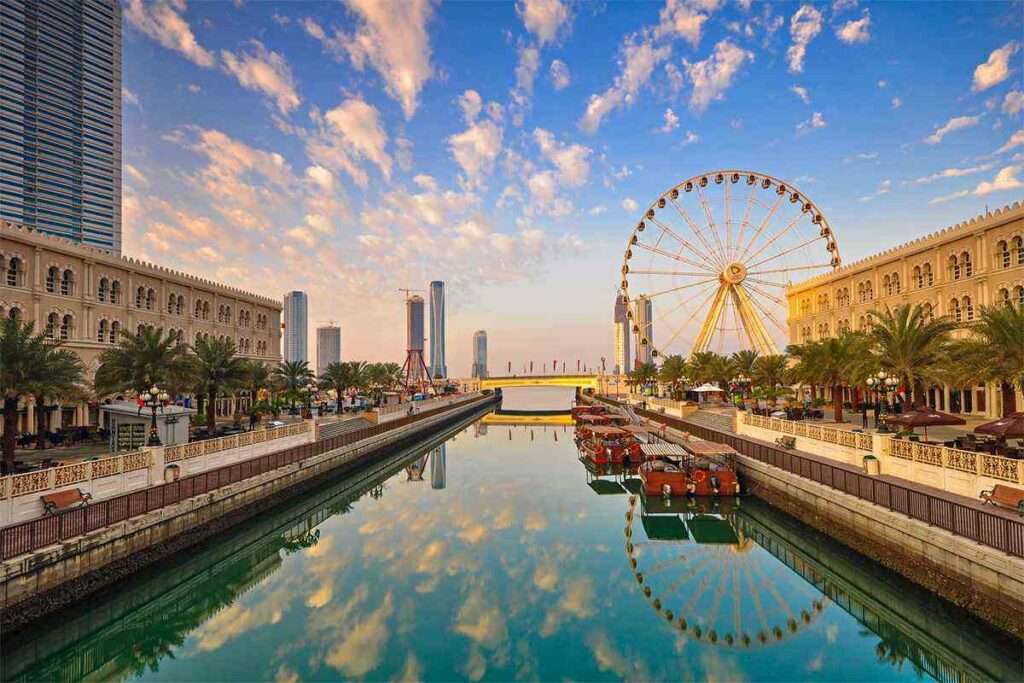 Sharjah City Tour From Dubai
Sharjah City Tour From Dubai, United Arab Emirates, is a must-see destination thanks to its fascinating history, beautiful scenery, and unique sights. Sharjah is the third most populated Emirate in the United Arab Emirates. In addition to its world-famous architecture, numerous museums, and prestigious art galleries.
It also boasts breathtaking natural scenery, such as highlands, beautiful valleys, and shimmering coastlines. Consequently, Sharjah shares borders with every other Emirate in the UAE.
4-hour tour of Sharjah city from Dubai
Sharjah City Tour From Dubai is often regarded as the cultural centre of the United Arab Emirates (UAE) due to its abundance of well-preserved historical landmarks. Sharjah, located only 30 minutes from Dubai's glittering attractions, offers a welcome glimpse into the country's traditional charm and warmth.
You'll be happy to hear that UNESCO named it the Arab Capital of Culture in 1998. Consequently, you shouldn't miss out on our extensive tour of Sharjah, which provides access to some of the region's most renowned cultural landmarks.
Foremost visiting places Sharjah City Tour From Dubai
When you cross the border from Dubai into Sharjah, don't miss the opportunity to see the city's historic souks, jaw-dropping landmarks, and illuminating museums. Visit the magnificent King Faisal Mosque, the largest mosque in the Emirate, and stroll along the picturesque Sharjah Corniche. The Sharjah Museum of Islamic Civilization features seven distinct exhibition halls that provide an in-depth look into the history, art, culture, religion and more of the Islamic world.
Additionally, you will see Sharjah's most famous shopping destination by going to Souk Al Markazi. The Blue Souk is a popular marketplace in Marrakech, where you can get one-of-a-kind souvenirs like carpets, rugs, and jewellery.
Afterwards, head to the lively Qanat Al Qasba, which boasts a kilometre-long canal and numerous amusements, including a massive Ferris wheel. You'll be transferred back to your Dubai hotel after experiencing the lively Fish Market and driving via Sharjah Cultural Square, which features a stunning sculpture of the Holy Quran.
Pick up Tour
A pick-up service from your Dubai hotel will start your day outing to Sharjah. On route to the "Pearl of the Gulf," you'll have the chance to meet your tour guide and fellow passengers. After arriving:
Spend 4 hours seeing the city with a guide to see what it offers.

Take a trip to the largest mosque in Saudi Arabia, the King Faisal Mosque.

Visit the Sharjah Fort, which dates to 1820 and serves as the residence of the Emirati royal family.
Travellers interested in learning more about the city's history should stop by the Heritage Museum before shopping for keepsakes in the Al Arsa souk. You will also visit the Al Markazi souk, a popular destination for its local handicrafts, jewellery, and carpets.
Why should I engage in this activity?
If you're looking for a cultural gem in the United Arab Emirates, do not look further than Sharjah. In 1998, it was named the Arab World's cultural capital. In 2014, it was named the Islamic world's cultural capital. The traditional sights and attractions of Sharjah may be explored on this guided tour, which includes transfers to and from Dubai.
 Also, on the itinerary are stops at the vibrant Qanat Al Qasba and the Souk Al Markazi, one of the unique retail areas. The excursion will take you to the Fish Market and the Sharjah Cultural Square. In the United Arab Emirates, no trip is complete without experiencing the thrill of a city tour in Dubai. Green Planet Dubai is the cherry on top of an already incredible vacation.
If you have the time, you should take advantage of a tour of Abu Dhabi, which is home to some of the most recognisable landmarks in the world.
Come on! Go on the journey.
The land is rich in history and culture; explore it! A Tour & Travel company can arrange a day trip from Dubai to Sharjah, including a visit to the city's top attractions. During our one-day excursion, you'll have the chance to explore Abu Dhabi, the cultural heart of the United Arab Emirates. The price of your trip includes admission to some of the city's top attractions. A visit to Dubai, the city next door, can help you better understand life there.
FAQs
Is Sharjah worth visiting?
Ans – Put, yes, you should go to Sharjah. Your exploration will lead you to various exciting indoor and outdoor destinations.
How long is the Dubai city tour?
Ans – The actual trip lasts 4–4.5 hours, but the time it takes to get there and back from your Dubai hotel will add another 60–90 minutes, depending on the time of day and how congested the roads are.
How should I dress in Sharjah?
Ans – It's fine to wear swimwear at the beach or hotel pool, but visitors should dress modestly in public places like shopping malls and hotel lobbies. This means covering up from shoulder to knee and avoiding tight, transparent or revealing clothes.
What exactly does a vacation package consist of?
Ans – The majority of the time, when you book a domestic vacation package, everything from your breakfast to your transportation to your hotel to your flight and your sightseeing and monument admission is included. Any additional expenses incurred by your decision to partake in optional activities during your trip will be your financial responsibility.