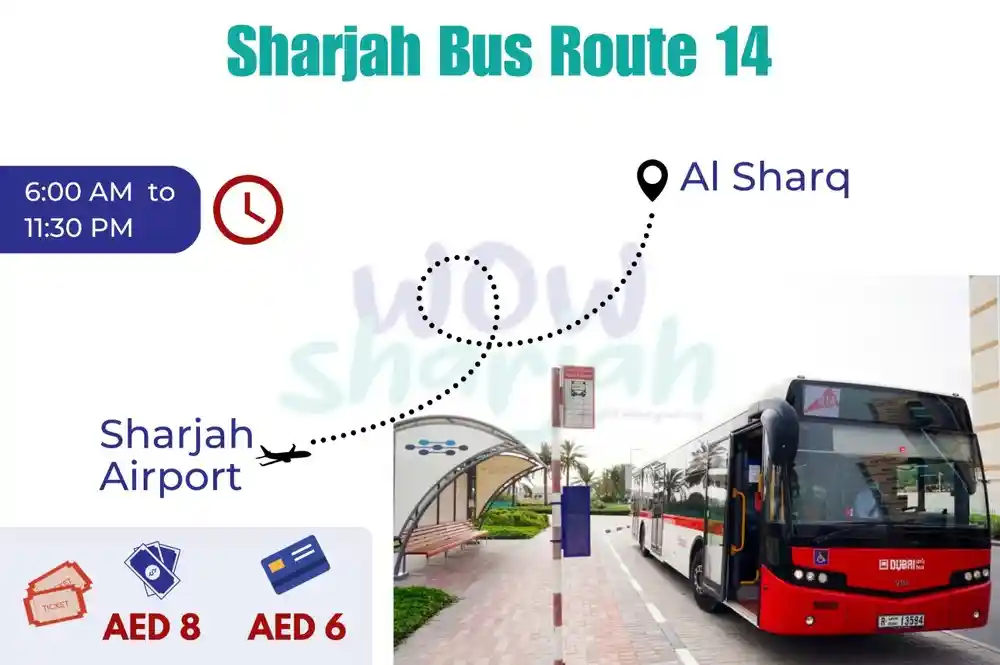 Sharjah Bus Route 14 has started from Al Sharq and end to Sharjah Airport. Sharjah Transport agency provide a Sharjah bus Route 14 timing and map also it may surely to help to Dubai People. Bus Timing at Sharjah starts from 6:00 AM to 11:30 PM on daily. But bus timing has been changed on Friday only.
The standard fare is AED 8 by cash and AED 6 by Sayer card.
Fare:
Standard fair: AED 8.00
Sayer Card: AED 6.00
Route14 operates from Al Sharq to Sharjah Airport . Route 14 covers various destinations including:
Al Sharq Terminal
Al Sharq Street
Al Arouba Street
Al Rolla Square
Al Ittihad Square
King Faisal Street
Maliha Road
Al Gharayen and Al Nouf area
Sharjah National Park
Sharjah Airport
Schedule of bus Timing and Map: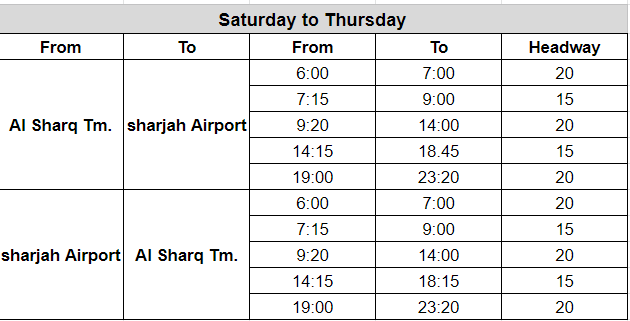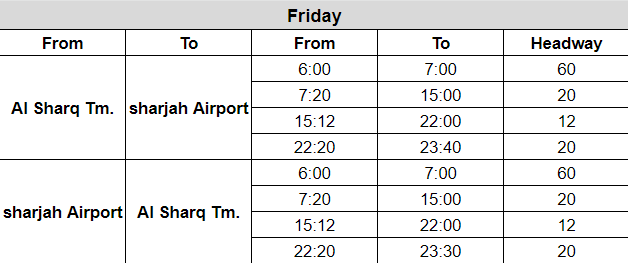 Schedule of bus Map:
Sharjah Bus Route 14
The 14 bus route is Business Bay Metro Bus Stop Landside – 01 and the last stop is Bay Square 1 – 01. F14 (Bay Square 1) is working daily.

More information 14 has 12 stops and the total trip duration for this route is aroung 16 minutes.
If you See more than over 1.5 million public  use this route for the directions, line route maps in Dubai / Abu Dhabi, and helps to find the closest 14 bus stops near you. 
14 bus Service Alerts
The 14 route from Business Bay Metro Bus Stop Landside – 01 including time status information, delays, changes  routes, changes stops locations, and other service changes.  14 route prices may change based on several factors. For more information about sharjah Bus route tickets costs please check on website.
For Queries:
For any suggestions on how you can make Public Transport better, Please feel free to contact us on the following numbers.
Roads & Transport Authority – Sharjah: 600 52 52 52