Office Park in Sharjah
Sharjah is a city in the United Arab Emirates (UAE) known for its rich cultural heritage and bustling commercial activity. One of the city's popular business districts is its office park, which is home to a diverse range of companies and organisations.
The office park is located in the heart of Sharjah and offers easy access to major highways and transportation hubs. It is a modern and well-equipped workspace that caters to the needs of businesses of all sizes.
Arada to launch $1.7bn office park in Sharjah
Sharjah property developer Arada is launching a Dh6.3 billion ($1.71bn) office park in Sharjah
The office park features a range of amenities, including state-of-the-art conference rooms and meeting facilities, high-speed internet connectivity, and 24/7 security. It also has a range of dining and retail options, making it a convenient place for businesses to operate and for employees to work and relax. The office park, which spans over 4.3 million square feet, will feature leasable office spaces across 40 blocks.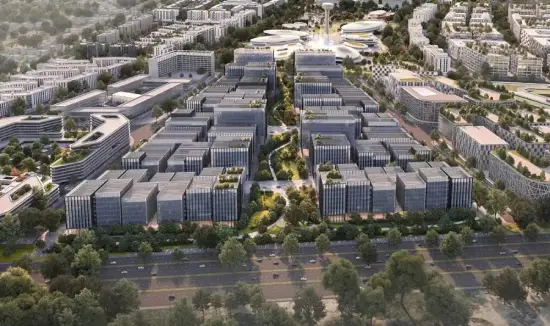 Arada, a Sharjah-based property developer, has announced the opening of a Dh6.3 billion office park. Further, it intends to increase its property holdings in the UAE by introducing five new residential projects. With 4.4 million sqf of rentable space, the brand-new office park is a major development.
The business plans to include it in its Dh24 billion Aljada master development. Ahmed Alkhoshaibi, the company's CEO, told The National that construction will occur over four stages. First-quarter 2023 will see the start of development of Arada's Central Business District. Moreover, completion is anticipated in under three years.
Overall, we expect to see this project through to its conclusion by the year 2028. Companies both in and outside of Sharjah are eager to move into a modern, high-quality office space. Mr Alkhoshaibi said that talks are underway between the corporation and local authorities to get "potential free zone" designation for the new office building.
Arada will try to entice UAE-based businesses, especially those in Sharjah, to set up shop in the new financial and technological hub. As part of the "NextGenFDI" project, it also collaborates further with UAE government to pursue the goal of luring foreign technology businesses to the nation.
Sharjah's New Office Complex
The Sharjah Office Park is a planned commercial and residential complex in the city's prime location. There will be a mix of commercial and retail space and entertainment venues in the new complex. Al Ghurair Properties, among the most prominent property firms in the United Arab Emirates, oversees building construction.
The project is situated in a very desirable area of the city known as the Al Ghurair Centre. The development's three office buildings will total 1.2 million square feet.
 A shopping platform will serve as a connection between the two skyscrapers. A five-star hotel, serviced apartments, and a gym is all part of the plan for the development's expansion. Businesses of all sizes, from established organisations to new ventures, will lease office space within the building. 
An enterprise incubation centre will also be part of the development, offering resources and space to new companies. There will be a selection of stores and eateries on the shopping platform. The planned recreational facilities include a swimming pool, fitness centre, and spa.
Office spaces for rent in Sharjah, UAE