Mampilly Medical Centre in Al Ghuwair, Sharjah, UAE Customer Care Phone number, Address, Email, Opening Hours, Website, Services and Social Media
Clinic in Sharjah
A Clinic is a health care center where you receive routine preventative care when you are healthy or visit your Doctor/Primary Care Provider when you are sick. A clinic is smaller than a hospital where patients are less sick and do not stay overnight.
Address: Al Ghuwair, Rolla – Sharjah Gold Centre (1St Floor), Near To K. M. Trading – Al Arouba St – Sharjah – United Arab Emirates
Phone Number: 97165616464
Email: N/A
Hours: Monday – Thursday: 8am-10pm,Friday:8-11:30am 4-10pm ,Saturday -Sunday: 8am-10pm.
Website: Mampilly Medical Centre
Direction: View Google direction here.
About Mampilly Medical Centre
Mampilly Medical Centre has 6 medical staff across 4 specialties. It has 1 reviewed doctors Dr. Urumese Mampilly Antony (Dentist – Orthodontics / Dentist).
Mampilly Medical Centre is located in Rolla, Sharjah. Mampilly Medical Centre was established in 1986 with the intention of providing quality healthcare in Sharjah. Since its establishment 30 years ago, they have grown steadily at Rolla, which is in the heart of Sharjah.
Mampilly Medical Centre Service
Accessibility
Wheelchair-accessible car park
Wheelchair-accessible entrance
Amenities
View the Best Clinics in Sharjah, UAE through the above link.
How to Reach Mampilly Medical Centre by Bus Stop / Metro / Taxi?
Nearby Bus Stop
Nearby Metro
Al Nahda Metro Station
Salah Al Din Metro Station
Stadium Metro Station 2
Taxi
Union Taxi
Gharnada Taxi
Gulf Taxi
View the List of Fertility Centers/ Clinics in Sharjah, UAE Address, Phone Number, Email and Website through the above link.
Mampilly Medical Centre Clinic Gallery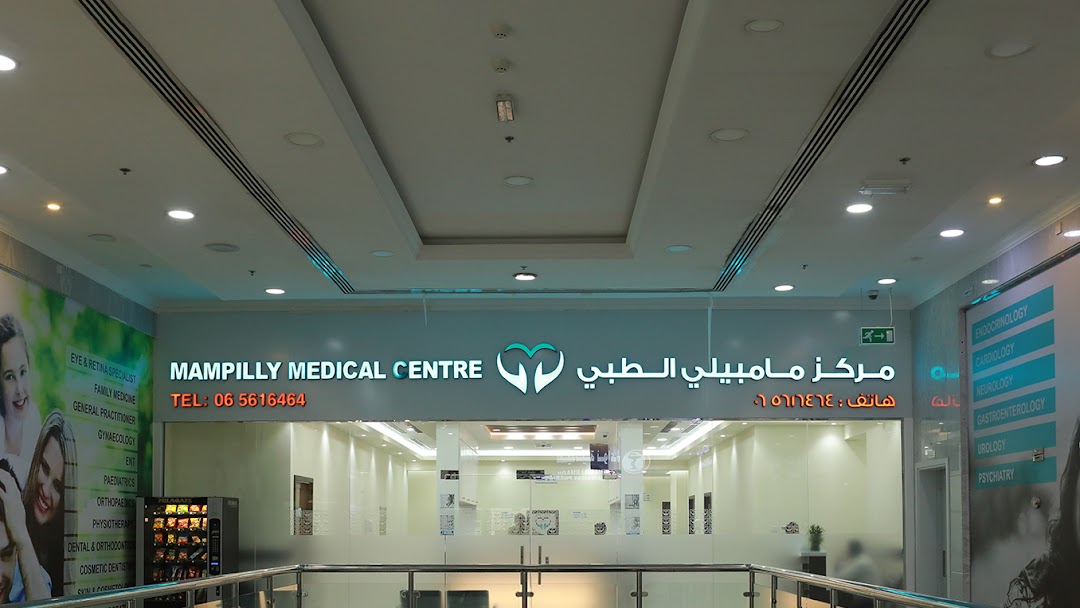 Is there any problem/complaint with reaching the Mampilly Medical Centre in Al Ghuwair, Sharjah, UAE Address or Phone number? Please report any issues using the below comment form.