Green Belt Park (Ladies Only) is a 1 mile (2000-step) route located near Sharjah, Sharjah Emirate, United Arab Emirates. Green belt women's Park Sharjah is at its busiest (and hence finest) from around the middle of March to the beginning of April.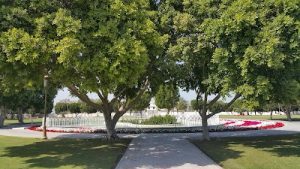 Address: Sheikh Majid Bin Saqr Al Qasimi Street, Al Falaj – Sharjah – United Arab Emirates  (Google Map Location)
Phone: +971 6 516 2328
Email: N/A
Website: N/A
Opening Hours: Monday – Sunday: 7:00 am – 10:00 pm
About Green Belt Ladies Park
Green Belt Park (Ladies Only) is a 1 mile (2,000-step) route located near Sharjah, Sharjah Emirate, United Arab Emirates. This route has an elevation gain of about 0 ft and is rated as easy. Due to the importance of fresh air for health, parks, gardens and green spaces within the city should be provided.
Why it is Green Belt Ladies Park?
The Park was given its current moniker because of the "green belt" that encircles it. As a sheltered area of native flora, this Park's section helps maintain a more comfortable temperature throughout the summer. The green belt is home to many different species of birds and animals.
Routes for getting around the park
Sharjah Ladies Park is conveniently situated in the middle of town, close to several public transportation options. 
The Park is easily accessible by foot from Sharjah International Airport and is on the schedules of two different bus lines. Al Qasimiyah and Al Safa neighbourhoods are also reachable by foot from the park.

Green Belt Ladies Park is conveniently located near some public transit stops in Sharjah. Indeed, most individuals own their own cars, but numerous public transit choices exist.

Most people use the bus to get to town since it is the most convenient and widely available option. Sharjah's vast bus network offers inhabitants a low-cost means of getting through the city. It's convenient to reach where you need to go since many bus lines pass through Green Belt Ladies Park.
In Sharjah, taxis are also a common mode of transportation. Taxis are easy to come by and may be flagged down on the street or called for through the phone. The taxi cost may seem steep compared to taking the bus, but it's worth it for its convenience and ease of travel.

Water taxis are also readily accessible for anyone interested in more unusual transportation. These taxi boats travel the canals of Sharjah, giving locals another option for getting about. While water taxis may be more costly than other modes of transportation, they do provide passengers with a memorable experience.
Back to List of  Park in Sharjah