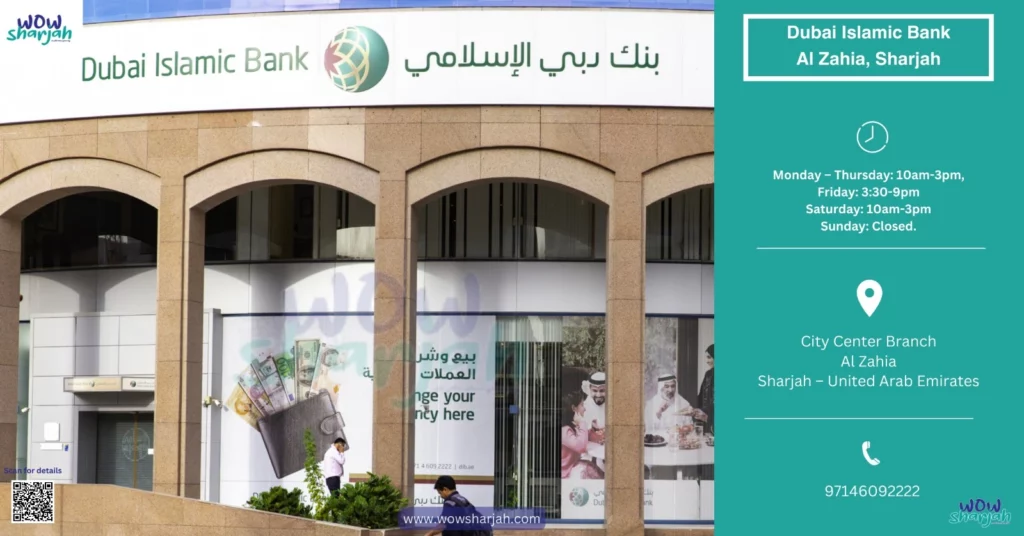 Dubai Islamic Bank in Al Zahia, Sharjah, UAE Phone number, Address, Email, Website and Social Media
Bank in Sharjah
A bank in Sharjah is a financial institution that provides a range of banking services to its customers in the city of Sharjah, which is located in the United Arab Emirates. These services typically include opening and maintaining savings and current accounts, issuing credit and debit cards, providing loans and mortgages, offering investment and insurance products, and facilitating international money transfers.
Address: City Center Branch – Al Zahia – Sharjah – United Arab Emirates
Phone Number: 97146092222
Email: N/A
Hours: Monday – Thursday 10am-3pm, Friday: 3:30-9pm, Saturday: 10am-3pm, Sunday: Closed.
Official Website: Dubai Islamic Bank
Direction: View Google direction here.
About in Dubai Islamic Bank

Dubai Islamic bank are more than just a bank As champions of morality, equality and transparancy, our establishment reflects the modernity, diversity and growth of the city ntegrated within a sequence of intentionally designed public spaces of lush landscaping, water features and sculptured art installations that allude to the rich traditions of Sharjah's artistry.

View the Best Banks in Sharjah, UAE through the above link.
View the Islamic Bank in Sharjah, UAE through the above link.
How to Reach Dubai Islamic Bank by Bus/Metro/Taxi?
Nearby Bus Stop
University-South (University City Rd Club of Handicapped)
University City Adnoc Station Opp Stop A
University City Rd Adnoc station
Nearby Metro Station
Al Nahda Metro Station
Al Qusais Metro Station
Stadium Metro Station 2
Nearby ATM
United Arab Bank – ATM
UBL – ATM
Al Hilal Bank ATM
View the List of Banks in Sharjah, UAE Address, Phone Number, Email and Website through the above link.

Download Dubai Islamic Bank in Sharjah, UAE Google Play Store, Android / Apple Store,


Contact Dubai Islamic Bank on Social Media
Dubai Islamic Bank Gallery
Is there any problem/complaint with reaching the Dubai Islamic Bank in Al Zahia, Sharjah, UAE Address or Phone number? Please report any issues using the below comment form.