Chery Sharjah – Showroom & Service Center in Industrial Area, Sharjah Address, Phone Number, Email, Website and Services
Chery Sharjah – Showroom & Service, Address: Industrial Area – Industrial Area 5 – Sharjah – United Arab Emirates
Contact Number: 97165146404
Email: crm.chery@habtoormotors.com
Opening Time: Monday to Sunday: 8:30am-8pm
Website: http://www.cheryuae.com/
Direction: View direction here
Services Chery Sharjah – Showroom & Service Center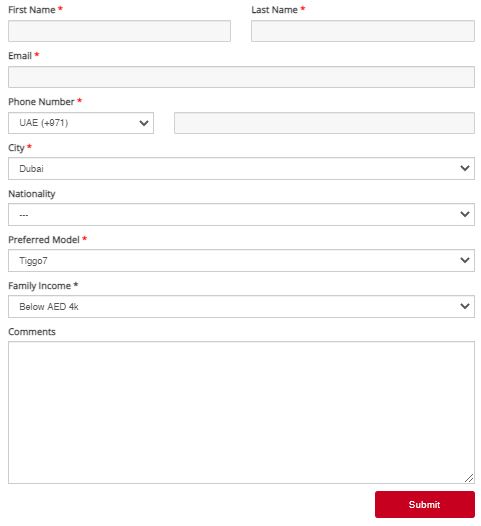 View the list of Car Showroom in Sharjah Address, Phone Number, Email, Website and Services through the above link
Cars Body Type
Sedan
SUV
Crossover
Coupe
Hatchback
Convertible
Van
Wagon
Contact Chery Sharjah – Showroom & Service Center on Social Media
Designed to be different
A lot goes into designing a Chery car. Master designers with a pulse on the existing design trends team together to create every Chery car that scores on looks, performance and functionality.
The Chery design team is led by the current two art directors, Mr. James Hopes – former GM designer and Mr. Hakan Saracoglu – former designer of Porsche.
iAuto. Technologically advanced
Chery cars are designed to be a smart breed. Powered by the latest technology, every Chery car makes driving easy and efficient.
C-lab
At Chery we understand that like anywhere else in the world, even people buying a car in the UAE look for ultimate driving comfort. Which is why, every Chery car undergoes the most stringent tests to live up to the expectations of the quality and comfort-conscious car buyer in the UAE. NVH performance is a key indicator of driving comfort and one of the key evidences to judge auto quality.
Meisterbock & Cubing test method, emerged just in the recent years, is often applied to joint venture cars. Meisterbock technology can ensure precision of the body structure and lay a foundation  the vehicle. Cubing technology matches and analyzes the car models, evaluates the seams, surface difference, appearance and other  features and ensures flawlessness of key details.
Observing the vehicles from the customer's perspective during the development stage of a car, gives us the strategic advantage of delivering excellent quality to consumers.
Test lab
Test Lab introduced from the United States can imitate braking, acceleration, side rolling and other motions and make accurate test for the chassis steering and suspension system in consideration with the local road conditions. As a result, its chassis operation stability can be compared with the similar joint venture brands.
Development of every new car at Chery goes through about 20 tests, far more than the 4-5 tests in line with the industrial standard, and take as much as 48 hours for the process.