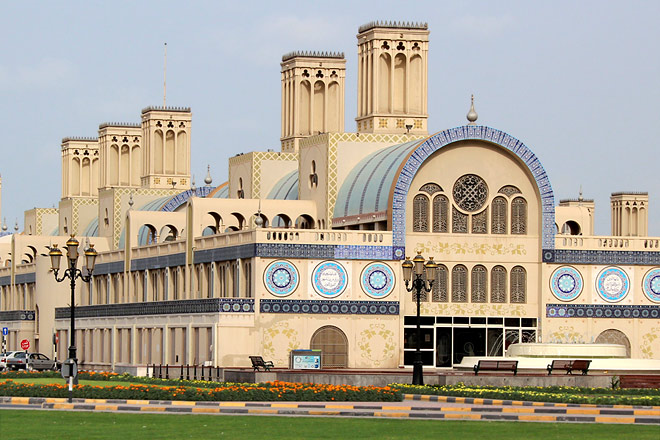 The Central Souk, one of the most photographed structures in Sharjah, is a well-known landmark due to its distinctive, blue-tiled exterior. The souk is a popular Sharjah attraction, especially among those keen on interior design.
You can find shops selling local arts and crafts up here, such beautiful carpets and kilims made by hand. You may find a dazzling collection of genuine Bedouin jewellery, gold and diamonds at the stores that line the lagoon. Some local artisans are so skilled that they can faithfully reproduce a design from a simple sketch.
A pedestrian bridge leading to nearly 600 stores connects the two mirror-image structures. You can score incredible deals if you know how to haggle in this crowded market. Join us as we explore this stunning Arab-style market's winding lanes and test your haggling skills.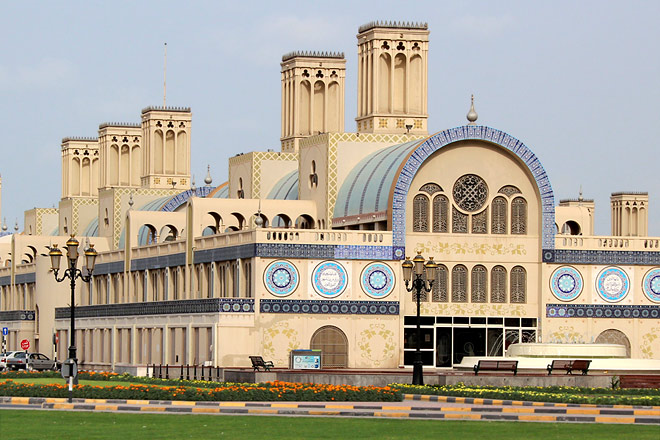 If you're looking for an authentic Middle Eastern taste, you need to stop at the Sharjah Central Souq. You'll be stunned by the kaleidoscope of hues here. This site is a hive of activity from morning to night, exuding the vibrant atmosphere typical of traditional Arab marketplaces. You can't miss it if you're looking for a great night in Sharjah. Detailed rugs, kilmis, and other hand-woven textiles are only a few of the regional specialities that may be seen upstairs. Finally, a few stores on this floor sell genuine works of Arabic craftsmanship. Near the lagoon, you'll find shimmering streets lined with stores offering high-end jewellery. The upper floor, which exudes the authentic atmosphere of Arabian Bazaars, is where you may discover the best deals. The Central Souq, also known as the Blue Souq, is a must-see for any shopper because of its exciting, hectic atmosphere.
Shopping Experience
Here's a must-see shopping district open late and best experienced at night. Take a stroll along the docks by the fish souk as the sun sets, and you can see the fisherman fumble with their old-fashioned wooden boats. If you're approaching Dubai from the south and you get past the soulless suburbs, you'll see Khor Khalid and Jazeira Park, two places where you can enjoy a stroll along the water. Sharjah Bridge spans the narrow inlet and terminates at a massive roundabout where the hellish traffic flow leads directly to the blue souk and the fish market.
When it opened, people from Abu Dhabi and Dubai, two neighbouring emirates, made a point of travelling to the Central Souq to purchase the most cutting-edge textile and fabric styles. A landmark in the emirate, the 80-square-kilometre-large Souq quickly became recognisable to locals across the country.
If you're travelling to Sharjah with kids, you must take them to the Central Souk for a taste of the Middle East. The vibrant tapestry of colours in the shop displays never fails to amaze both young and old. Buying a homemade toy is great if you're looking for a creative activity with your kids. The souk is one of the best locations in Sharjah at night, and it's opened every day until 10 o'clock.
The Sharjah corniche is a short distance from the souk, and many of the city's museums may be found in the immediate area. Try visiting the Sharjah Art Foundation and the Sharjah Museum of Islamic Civilization in tandem with a trip to the Central Souk.
Architecture
Two large-market structures connected by footbridges make up the Central Souk, an important cultural site. The souk was created by the illustrious British firm Michael Lyle and Partners for Sheikh Dr Sultan Bin Muhammad Al Qasimi. King Abdullah II of Sharjah acts as supervisor and gives orders. Both buildings have stunning views, one of the historical King Faisal Mosque and the other of the scenic Khalid Lagoon. A couple of the blue tiles that decorate the exterior walls of the market are inscribed with verses from the Quran.
The viewpoint of a Traveller
I checked out the city's iconic "Blue" Souk on my first and second days in Sharjah. They have reasonable prices, even compared to the souks in Dubai. In addition to two Persian rugs, I also bought a couple of hanging lamps in the Arabian style. There was a lot of laughter and negotiation with both carpet merchants, and we had some tea, which made the whole process more enjoyable. The final results of my shopping spree left me extremely satisfied. Unlike in other souks I've visited, the merchants here aren't aggressive. The shops are well-lit and air-conditioned, selling a wide range of goods, including jewellery, fabrics, Persian rugs, and several antiquities. A select few dining establishments offer menus in more than one language. Simply put, this central Sharjah souk is fantastic.
FAQs
What is Souq famous for?
Ans – Dubai's ancient and contemporary souks are the best places to shop for luxurious gold jewellery, intricately woven fabrics, classic perfumes, and unique keepsakes.
What is UAE's favourite food?
Ans – Shawarma, a beloved Middle Eastern meat dish, is the most popular fast food in the United Arab Emirates. It's recently gained popularity and acclaim across much of Asia. You can get shawarma anywhere, including supermarkets, street vendors, and restaurants.
Which is the most beautiful emirate in UAE?
Ans – Only Fujairah, an emirate in the UAE, can be found on the country's eastern side. This emirate provides excellent contrast between its mountainous flanks and its seemingly endless coastline. Fujairah boasts some of the country's most beautiful scenery.
What is UAE national food?
Ans – The national food of the UAE is khuzi, sometimes known as ghuzi. This dish, which has grilled lamb or mutton over rice and garnished with veggies and almonds, is a hearty, tasty main course.