Al-Ain Palace Museum Once the home of a sheik, this 1937 estate with a courtyard displays historic furniture & art.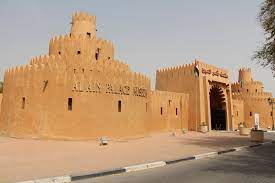 Address: Al Ain St – Central District – Sharjah – United Arab Emirates (Google Map Location)
Phone: +971 3 711 8388
Email: N/A
Website: N/A
Opening Hours: Monday – Sunday: 10 am–6 pm, Friday: 2 –6 pm
About Al Ain Palace Museum
Al-Ain Palace Museum is one of the best-reinstated museums and an important historical site in the UAE. Al-Ain Palace Museum is a lofty edifice that educates different generations about the lives of the distinguished rulers of the UAE. It also spreads Emirati culture and heritage at home and abroad.