Ajman Museum is the emirate's foremost museum illustrating life as it once was.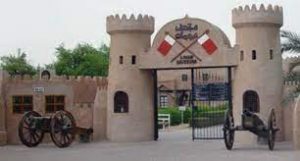 Address: Al Bustan – Sharjah – United Arab Emirates (Google Map Location)
Phone: +971-6-711-6666
Email: N/A
Website: N/A
Opening Hours: Monday – Sunday: 8 am–8 pm, Friday: 2.30 –8 pm
About Ajman Museum
The Ajman Museum is a museum located in the city of Ajman, United Arab Emirates. Ajman Museum includes several sections that offer a compelling glimpse of Ajman's past, including archaeology, manuscripts, folk costumes, souvenirs, and more. The museum displays are annotated in both Arabic and English.
Back to List of  Museum in Sharjah